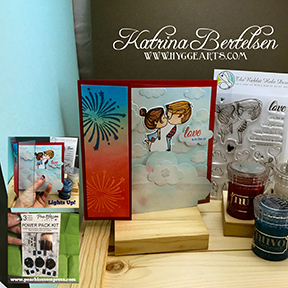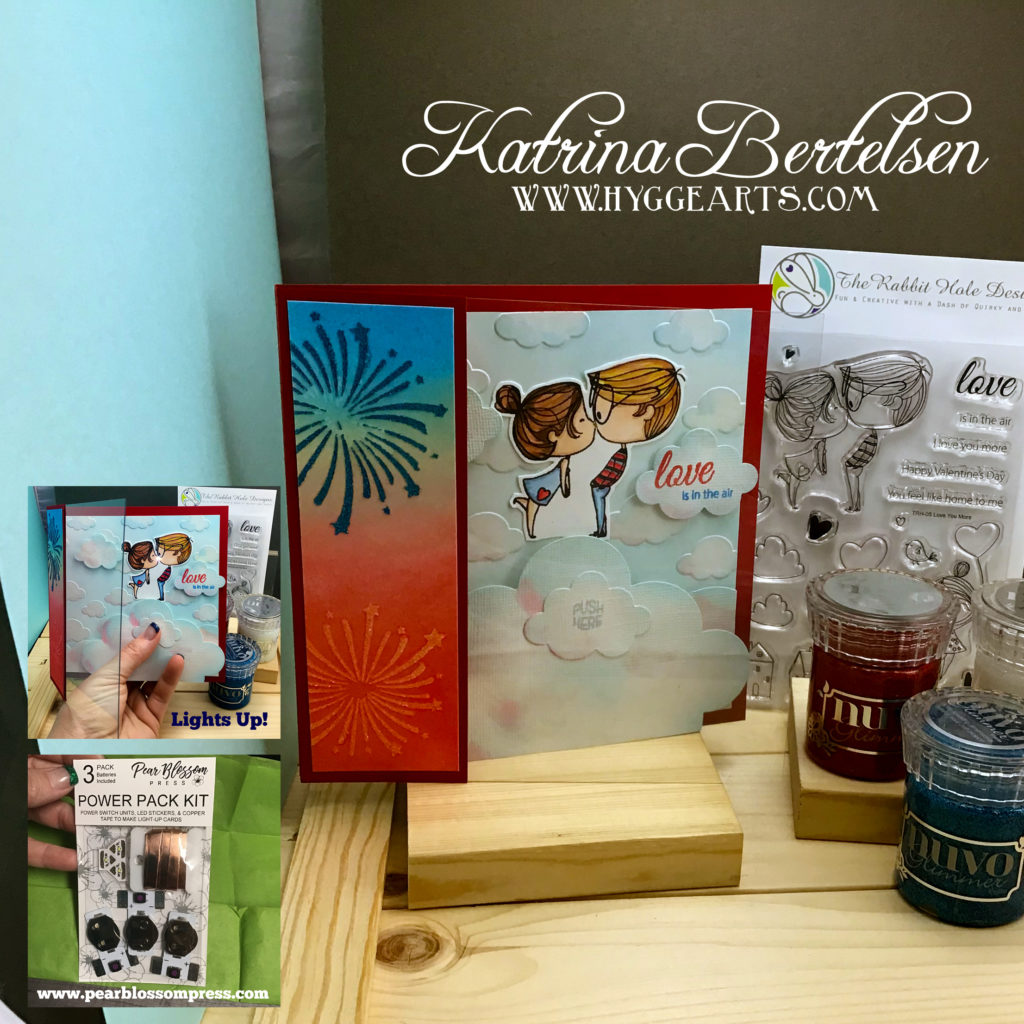 Can you feel it? There is nothing better than a sweet summer evening with your sweetie, holding hands and embracing in a summer's night kiss! This was my inspiration for my latest card. And when Amanda from Pear Blossom Press asked me to try out her new Power Pack Kit, of course I had to say YES! What would make this card perfect… for it to LIGHT UP! Pear Blossom's new kit options open a whole new world to card making!
I wanted to make a summer card and my first thought was to use fireworks because they light up the night sky. Then I remembered how much I love the set by The Rabbithole Designs called Love You More. What would be more perfect than the spark of a kiss! So, of course I made their kiss light up with Pear Blossom's Power Pack. It was very user friendly and came all wrapped up in a nicely presented kit with step-by-step instructions listed on the back. Here's a link to show how to use the power pack as well: https://Pearblossompress.com/power-pack/ .
Let me show you how I made my card using the steps below: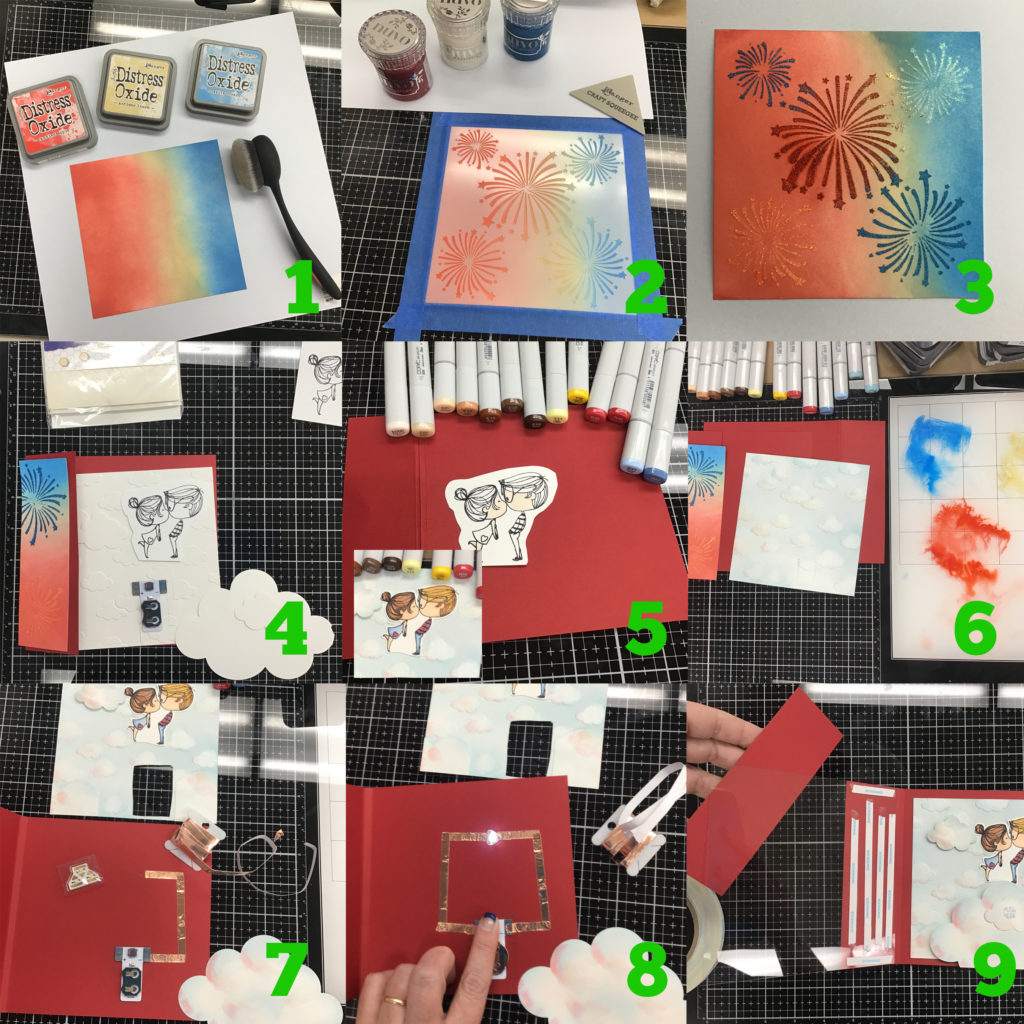 Step 1: I used three of my Americana colored Distress Oxide Ink pads and my blending brush. I used Bristol Smooth paper. If you haven't tried these inks, you should. They glide on so smoothly. It's easiest if you start off the paper and blend onto it.
Step 2 to 3: Next I used Nuvo Glimmer paste and my fireworks stencil from my stash (I believe it was from The Hedgehog Hollow, but I can't swear to it). After taping my stencil down to my work surface, I squeegeed on a small amount of all three colors. One tip with the glimmer paste is you need to work relatively quickly and wash your tools right away. After slowly lifting the stencil up, I let this paper dry completely overnight. For my final card I ended up using only a portion of it and saved the rest for a future project.
Step 4: For my card base I wanted to go with a larger presentation and decided on a 6×6 format. I cut my card stock to 8-1/4" x 6". I then scored for folds at 2" and 2-1/4". I knew I wanted a clear cover and this flap will allow for that. Having a 1/4" fold will allow for a flatter presentation once I've used pop up tabs and allowing some room for the battery pack. Once all my folds were done, I then used a Darice cloud embossing folder to emboss a patterned background. I used Cloud Stacklet die cuts from Taylored Expressions to cut various size clouds. The larger ones were used to conseal the battery pack. I placed the battery pack on top of my background to judge my sizing and space needed for everything else.
Step 5: I used Copic markers to color my cute kissing couple. This is where you can customize them to be any hair color or color of clothing. I decided to make them resemble my husband and I!
Step 6: To add color to my cloud background, I completely covered it by blending Tumbled Glass Distress Oxide ink on the Background paper. Then I sponged on my opaque white pigment ink using a dauber to the clouds themselves. It will look really bright at first but the pigment ink will settle into the paper and blend nicely. I cut down my fireworks piece from the previous day to fit the flap of the card front. To give the background and die cut clouds a little more dimension, I decided to take my oxide inks and add water to use them as watercolors. By adding a little color to the undersides of the clouds, it makes it look as though they are glowing from the fireworks in early evening.
Step 7: Here's where I marked my background paper for where I needed to cut to allow for my battery pack. Look at the picture above in square 7. It's a little hard to see in this photo, but I followed the Pear Blossom instructions and marked where my light unit will be as well as my positive and negative sides. Once you have those marks down it is easier to know where to put your copper tape that comes in the kit. It is self adhesive and tears easily by hand, so no need for scissors unless you want to.
Step 8: Following the instructions for the power pack, I finished connecting the battery pack to the light unit with the copper tape; making sure to reinforce the end connections. Her video on her site is excellent at showing how easy these are to use. Once the connections are complete, press the button and make sure your light works. Woohoo! It works!
Step 9: Now comes the card finishing. I cut a 6"x6" piece of .020 thick Clear Grafix Plastic for the card front. I opened up the flap of the card front and attached the clear plastic with a strong adhesive tape called scor tape. It is super strong and highly recommended for this kind of application. A liquid glue may not hold consistently for this. I added more scor tape to the inside of the card front and attached a matching red piece of scrap for a finished look. Then using foam dots and foam tape, I adhered the background being careful not to alter the copper tape connections. Before I adhered it down, I made a tiny incision where the couple's mouths meet so the light could shine through. Then I applied the large cloud covering the battery pack with foam dots. Continued to place smaller clouds as desired. I stamped on two different clouds. Love is in the air was used from the same set as my kissing couple; Love you more by The Rabbithole Designs. Secondly, I used the push here stamp from Lawn Fawn's Push Set. I adhered the push here cloud just over the battery pack button and Wahlah… it works!
I hope you enjoyed my tutorial and get inspired to do your own light up card using the new Power Pack Kits!
For complete information on the new Power Pack Kit, you can visit the Pear Blossom Press blog hop post at https://Pearblossom press.com/introducing-the-power-pack/ . It is available 3 ways and Customers in the US can get free shipping on orders over $9 until May 11, 2019 by entering Code: FREEUSA. International customers can enter code: INTL5 for $5 off International shipping until May 11, 2019. … And there will be chances during the Blog Hop to win a power pack kit. Pear Blossom Press is giving away 10 Power Pack Kits to 10 different Hoppers so Hop along with us following the links below. See what amazing creations the other guest designers have come up with!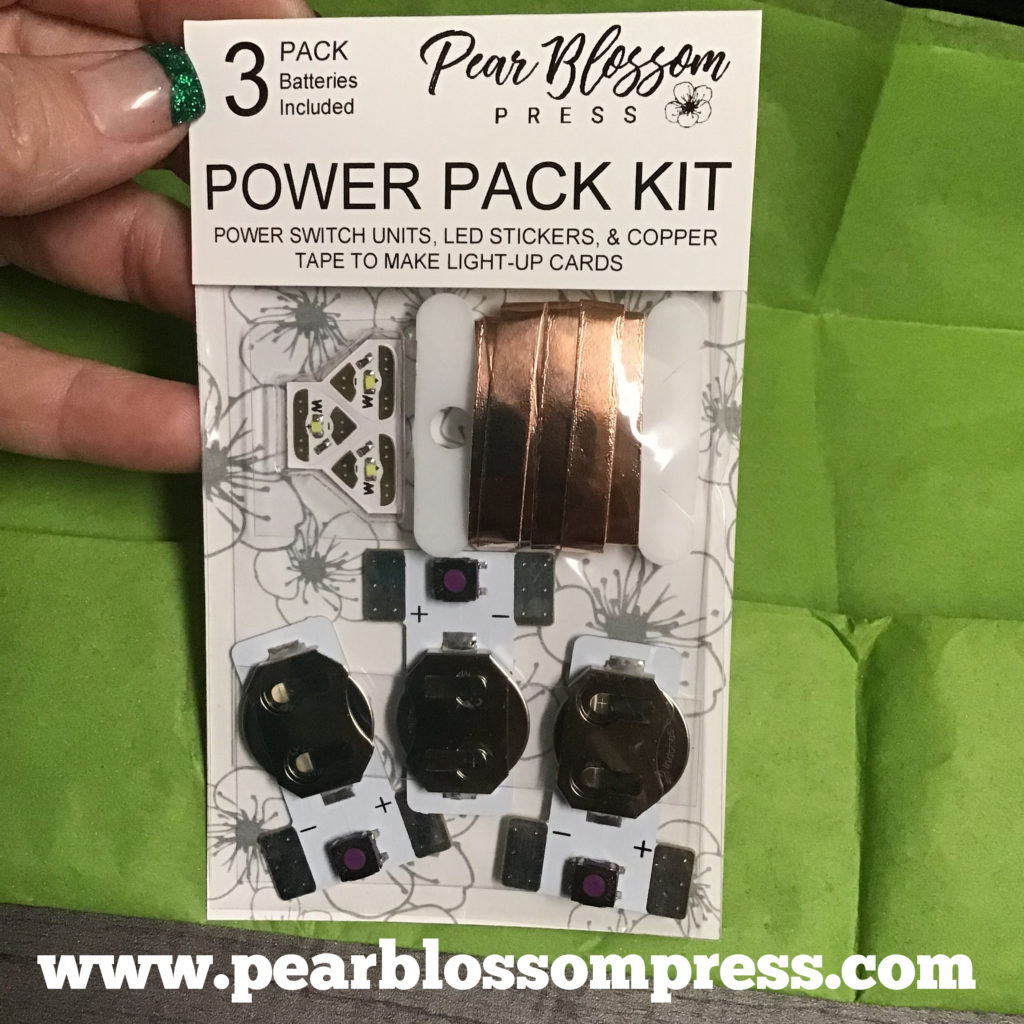 Follow the Blog Hop Links below: